Laws Of Attraction
There's one thing that would compel me to wing it to a far flung destination - a fantastic photo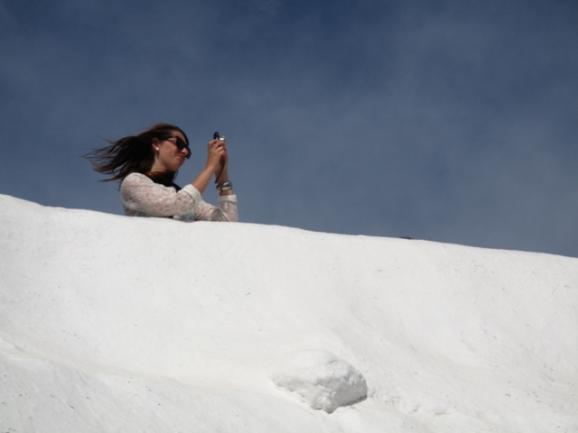 I love to travel. Every so often I get an overwhelming urge to escape. To just drop everything and go. Surround myself with unfamiliar buildings, put myself in unfamiliar situations and have my ears fill with unfamiliar sounds. The reward isn't just being there, it's coming back and feeling as if I've been jump started again - inspired, awake, enlightened.

The world though small, offers unlimited potential for adventure. So where does the journey begin?

Often work has a hand in deciding. When you have a career in lifestyle publishing, you get thrown assignments that, if you're fortunate, happen to not be in the city you live in. I'm thrilled to get to go to Penang, Langkawi, Melaka.... If I'm incredibly lucky, sometimes these assignments are outside of the country. It's not that foreign is better of course, it's just that foreign costs money so to have the tab picked up and to get to cast off my cubicle-confined existence - that's exceptionally fortituous.
Still sometimes those plum jobs don't come hard and fast enough. So how do I decide? With me it starts with a picture - a postcard, an image in a magazine, a photo on Facebook. Even with the permeating presence of YouTube and satellite TV, sometimes a single image is all it takes to make me want to throw everything down and pack my bags.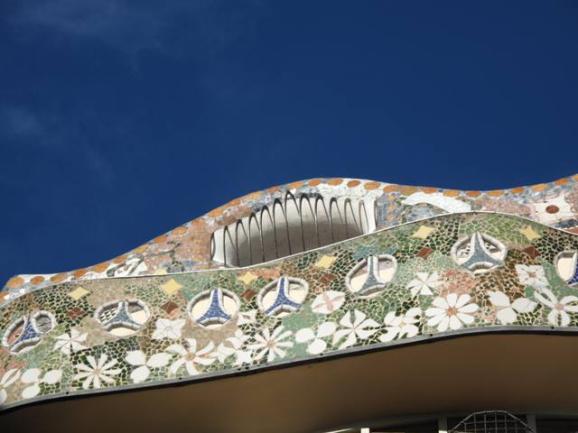 I can't remember where I first saw a picture of Antoni Gaudi's wildly imaginative architecture, but I recall thinking that Casa Batlló looked like a fairytale come to life, as if crafted from coral and built underwater, it's azure hues, undulating form and rooftop scales perfectly complementing the environment I imagined it was really built for. So when university was done and my best firned suggested that we pick somewhere to visit before we had to leave UK and get a job back home, I picked Dublin and Barcelona. Obviously the former wasn't exotic enough, so off to southern Spain we went to soak up the sun, sand and Sagrada Familia.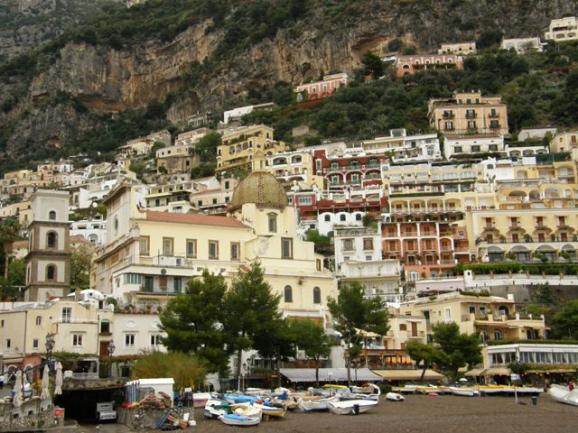 It was a combination of Robert Downey Jr and Marisa Tomei flick Only You and this image that sent me jetting off to Italy's Amalfi Coast a few years ago. The movie was hopelessly romantic and cutely funny, its premise revolving around Marisa Tomei's last ditch attempt to find true love by stalking her predestined soul mate to Positano in southern Italy. But it was the sheer contrast of those buildings clinging onto the clifside and amazing coastal scenery, that I felt I had to be with. I made Sorrento my base and from which I took long walks through olive and lemon groves, ferried it to Capri and bussed it to Positano. Just like the movie, it was indulgent and full of spontaneous moments: hitching a ride with a stranger on the back of Vespa, dinner at a Micehlin star restaurant, dicovering the world's most refreshing gelato limone I have ever had the pleasure to wrap my lips around....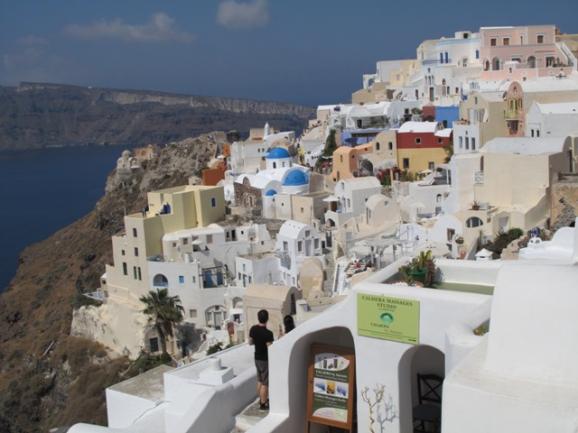 A go-to for travel magazines, stick an image of the Greek islands of Mykonos or Santorini's immaculately white washed buildings againts a backdrop of brilliant blue sky on the cover and it's impossible not see that issue fly off shelves. I had only ever dreamt that I'd actually get to go but never imagined that I really would until another bestie who was travelling to Greece suggested it. Steph arrived before me to island hop, while I arranged to meet her on Santorini. We spent a week there quad biking, swimming and eating at every opportuunity, our eyes fed with breathtaking views as often as our stomachs filled with yoghurt and saganaki. It's is possibly more beautiful than any picture and a lot more diverse than the images that have come to embody this volcanic island.

That was last year, just before the Euro crisis and mere weeks before the Syntagma Square protests in Athens. This year I've yet to find that one photo that will have me scrambling for my laptop to make flight and hotel lookings. Admittedly the first half of the 2012 has been deicided for me - I have two weddings to attend - one in Melbourne, the other in Bali. That leaves me six months to find a picture to inspire me. And I'm open to suggestions!